ACCCRN Resilience Talk: Unacknowledged Values of Urban Ecosystems: An Analysis for Dhaka City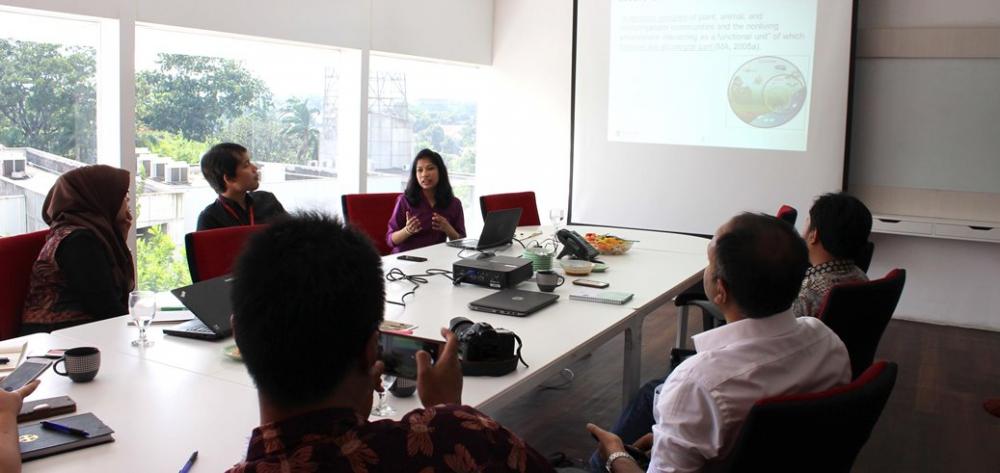 Bangladesh has one of the largest deltas in the world with a complex network of 310 rivers and their tributaries. Right now the real GDP growth rate is around 6%, 50% of GDP comes from the service sector, the literacy rate is 58% at national level, about 67% of people use improved sanitation and almost 88% people have access to safe drinking water. It's evident that the development process in the Bangladesh delta has gained momentum. As the capital city of Bangladesh, Dhaka is the hub of all kinds of social economic and cultural activities of the country, so it attracts people to migrate from rural to urban areas.
Tightening budgets and growing needs for environmental actions have made it difficult for government to better allocate investment in protecting and restoring natural environment. Ecosystem valuation is widely used tool to determine the impact of human activities on an environmental system, by assigning an economic value to the ecosystem services.
Naeema Jihan Zinia, a PhD student at the Monash Sustainable Development Institute at Monash University in Australia, is doing her research on urban ecosystem services management in Dhaka by recommending economically feasible and socially acceptable green adaptation strategies. She presented her research during the ACCCRN Resilience Talk with the theme 'Unacknowledged Values of Urban Ecosystems: An Analysis for Dhaka City', on Friday, 25 August 2017 in the Mercy Corps Indonesia office in Jakarta, Indonesia.
"Continuous urban expansion has been degrading the urban ecosystems quality and also quantity. Therefore, as the city is growing, managing its ecosystem services is increasingly complex," said Zinia.
She highlighted that ecosystems in urban areas play crucial roles in regulating ecological functions, supporting primary production, providing food, and creating non-material benefits.
"Apart from aesthetics, other benefits are often overlooked as value are not attached to them," she added.
The appraisal of new policies, programs and projects all require environmental impacts as well as its essential supporting functions to be taken into account. Understanding the economic value of nature and the services it provides to humanity has become increasingly important for local, national, and global policy and decision making. The valuation of ecosystem services will contribute towards better decision-making, not only by ensuring that policy appraisals fully take into account the costs and benefits to the natural environment and by highlighting much more clearly the implications for human wellbeing, but also in vice versa how a different development pathways could hamper the sustaining function of ecosystem services lead to its disservices, while providing policy development with new insights.
"I hope this study will motivate citizens and policy makers to support sustainable urban ecosystem management in Dhaka and similar cities," she concluded.
 
ACTIVITY UPDATE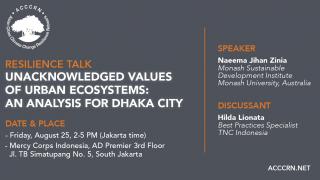 Mercy Corps Indonesia through the Asian Cities Climate Change Resilience Network (ACCCRN), is excited to invite you to our event Resilience Talk in Jakarta.
 
Our theme for this "Resilience Talk" is 'Unacknowledged Values of Urban...
Read More
Bangladesh faces multi-dimentional challenges related to population growth, rapid urbanisation, land use change, and natural hazards. But, the severity of these challenges is event more intense given the likely climate change in terms of salinity intrusion, sea level rise,...
Read More