Bangladesh Climate Ambassadors have demanded special programs for Coastal and CHAR (island) children's with integrated approach in upcoming budget session.  The call was made at the seminar on "Climate Change Impact in Coastal Bangladesh, Protecting Children, Adolescent and Youth: A Case Study from Monpura island" . This seminar was organized by All Party Parliamentary Forum on Climate Change in cooperation with UNICEF Bangladesh & NGO COAST at 24 April 2017 in IPD Conference Room of the National Parliament of Bangladesh.
9 Children & 9 Youth from YouthNet for Climate Justice joined this program as Climate Ambassador. There were children and youth speakers from Monpura island and Barisal, who are Sabia Mim, Shakila Islam, Sohanur Rahman, Jubayer Islam and Sajib Uddin.They have demanded for investment for children well-being on climate change impacted coastal zone & disability inclusion. Sajib Uddin a Climate Ambassador from Monpura Island said, they are loosing all the dreams including their homestead and schools. Sabia Mim said that due to the climate change impact child marriage is increasing in the island is like a curse, Jobair Islam a youth organizer of YouthNet for Climate Justice from Barsial said good officials should be deployed in coastal area rather than sending them in the place as punishment. Along with the seminar a Photo Exhibition was also organized. Photos taken by adolescents of Manpura on the climate change impact in Manpura was displayed. 
Chairman of Parliamentary Standing Committee on Ministry of Environment and Forest Dr Hasan Mahmud chaired the seminar while Deputy Speaker of the Bangladesh National Parliament  Fazle Rabbi Miah was chief guest in this seminar.UNICEF Country Representative Edouard Beigbeder, Professor Emeritus Ainun Nishat of BRAC University, Dr Sharmind Neelormi of Jahangirnagar University, and members of parliament Jebunnesa Afroze (Barisal-5 constituency), Tipu Sultan MP (Barisal-3), Shaimum Sarwar Kamal MP (Cox's Bazar-3) and Nobi Newaz MP (Jhenaidah-3),  and Monpura upazila chairman Selina Chowdhury also spoke the seminar.  The MPs stressed with young representatives to the need for increasing budgetary allocation for coastal protection focusing on children and the youth. Key note papers were presented by Mojibul Haque Munir of COAST, AH Towfique Ahmed of UNICEF.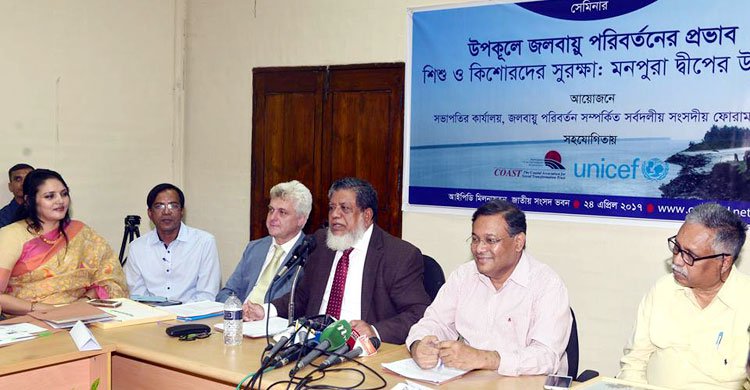 Deputy speaker addressed "The emission of carbon dioxide by developed countries in the name of industrialization causes adverse effect on environment and Bangladesh and other developing countries are becoming victims,". He said the developed countries are not playing effective role to deliver their commitment of providing Climate finance  for victim countries due to climate change. Fazle Rabbi said developed world are destroying the ecological balance but developed countries are suffering the adverse effects of the climate change.
The deputy speaker said Bangladesh government is continuing its all-out efforts to protect the ecological balance of the country. Deputy speaker urge all political parties of the country to have a united voice in combating the diverse effects of climate change including the environmental organization like as unicef to build a  chorus voice. Leading water expert Ainun Nishat,Professor Emeritus of BRAC University told, `Climate change action plan needs local input' Emphasizing environmental, economic, political and social aspects,
Dr Ainun Nishat, a leading water and environment expert, said knowledge from locals should be taken into serious consideration while planning on Climate Change.  Role of women & Youth should be increased in water management system as they have practical knowledge on the issue. The existing climate change action plan needs to be revised with a greater degree of local expertise, in order to be more effective in coping with the adverse impacts of climate change in Bangladesh. "The climate change action plan, which was prepared earlier, should be revised by local experts instead of foreigners."
Dr Hasan Mahmud, Chairman of the Parliamentary Standing Committee on Ministry of Environment and Forest suggested for major reforms in Bangladesh Water Development Board (BWDB) in order to bring dynamism and efficiency in it. Mahmud's comment came at a time when BWDB's integrity has been put under question following flash floods in country's haor areas, especially in Sunamganj district. He said BWDB has to be reformed to protect people from flash floods in haors as well as tidal surges along the cost. "They must innovate new techniques and technologies which should be applied in vulnerable areas after discussion with local communities and the affected populations," said Hasan Mahmud, who served as the environment and forest minister for five years until early 2014.
Mr Edourad Beigbeder urge for more investment toward children and youth and their voice should be heard. Dr Sharmind Neelormi said that Cyclone shelters should be equipped to facilitate women and girls. She also said that reproductive health of the women and girls has a great concern in this regard. Selina Chowdhury Upazlia Chairman of Monpura Island said her island is the worse victim in the front line of climate change; government must take action to save the island on priority basis.