ASIA: India
Access to safe water, clean air, a healthy environment and less time spent commuting on congested roads – these are things all city dwellers no doubt would say "yes" to. Yet with more and more people moving into cities and the urbanisation trend projected to increase, there is a huge demand for resources such as food, water, energy, putting pressure on urban systems.
Millions of urban citizens face a number of challenges that affect their quality of life, including contaminated water, lack of waste disposal facilities, electricity shortages, water and food-borne illnesses and reduced mobility due to lack of public transport and heavy road congestion. Climate change poses an additional stress that will exacerbate these existing issues. Evidence shows that increasing temperatures, changing patterns of precipitation and rising sea levels are already disrupting city lives and livelihoods. Considering the myriad complex and interconnected issues modern Indian cities are currently facing, how can we improve life in urban spaces and ensure we are prepared for an increasingly uncertain future?
This very question is examined in a new book,"Road to Resilience: Synergy for Sustainable Cities", published by TARU Leading Edge. The book sets out practical solutions for creating a new paradigm for cities we would like to live in: cities that are sustainable and resilient.
The result of a decade of work on urban climate change resilience by TARU as well as other Indian partners through the Asian Cities Climate Change Resilience Network (ACCCRN), it is a compendium of actions for transforming cities to places where everyone has access to safe water, clean air and a healthy environment. The book provides paths to build synergy between scales, stakeholders and sectors for a better urban future. It identifies steps for different stakeholder groups – government, private sector, civil society and communities - to work together and create a new paradigm for the cities we desire to live in.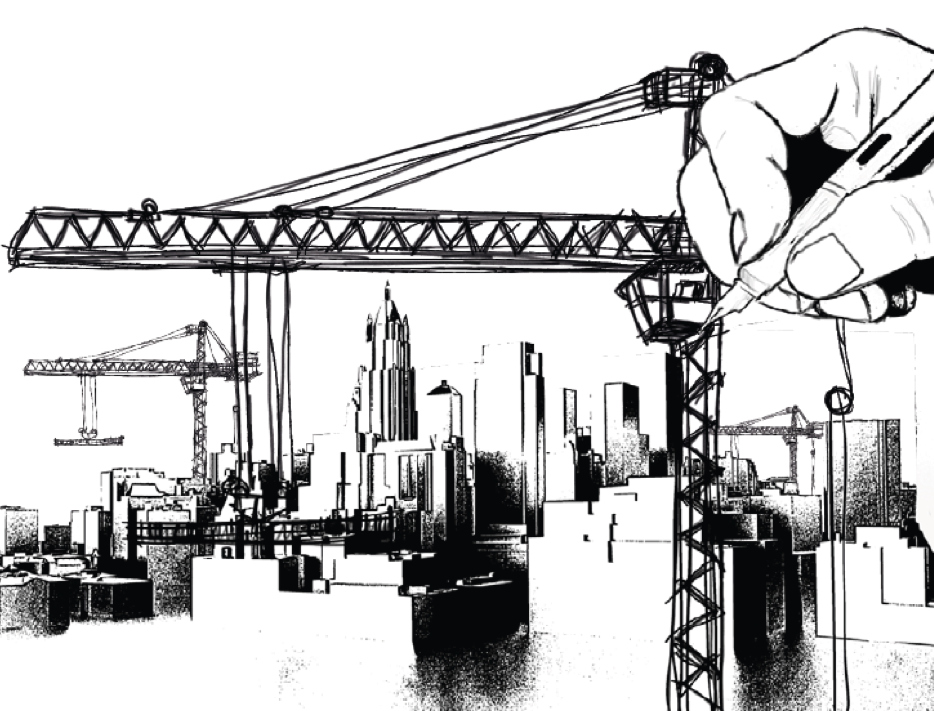 India's cities are growing fast. Huge investments in infrastructure are required in the coming years, presenting an opportunity to build resilience into the urban fabric.
Changing realities
Today's urban planning relies on old paradigms that assume an abundance of resources and land. Today, we need to learn to live with increasingly limited resources. This is made all the more difficult in an age of growing aspirations and fast changing livelihoods, compounded by the uncertainty of a changing climate. As modern cities become increasingly dependent on complex physical and virtual networks, conventional, land-use centred planning is unable to provide resilient solutions.
Similarly, centralised grid-based utilities are increasingly challenged by decentralised production and recycling systems. Urban institutions in their traditional form are unable to develop the anticipatory and adaptive culture needed to address the uncertainties we increasingly face. In order to build resilience in our complex, modern cities, this must change.
Urban policy needs to be shaped by more people. Government, communities, civil society and the private sector must all be involved. Together, they can harness the power of technological innovations which have the potential to increase the autonomy of communities at a smaller scale. For example, disruptive clean technologies such as green buildings, solar energy, storage cells, autonomous cars and wastewater recycling can make neighbourhoods more autonomous, less reliant on centralised service grids.
Resilient and sustainable cities enable information generation and sharing, provide robust urban services that can respond to extremes, and continuously build a strong knowledge base across stakeholder groups. Resilient and sustainable cities are places where our future generations can live better without having to inherit vulnerabilities, resource scarcities and a polluted earth.
How can we transform our cities?
So how can we transform our cities from the old paradigm to a new one? A number of actions can be taken, which fall into these broad areas:
Unleash the city's capacities for learning & innovation
Look backwards, identify the past mistakes of planning and management
Develop an anticipatory culture to live in the age of limited resources and uncertainty
Work to reduce ecological and environmental footprints
Build synergy across scales by devolving and empowering stakeholders
Build autonomy of communities starting from micro to city/region/basin levels. (Cellular autonomy)
Develop equitable and inclusive society where none are poor or vulnerable
Use innovations in social communication to foster cross learning and coherent collective action
A key feature of the book is that of developing common ethics for all stakeholders: one of the main drivers of sustainability. It suggests that stakeholders of urban development can be divided into four main groups (government, the private sector, civil society, and communities), the interaction between which determines that quality of our urban environment.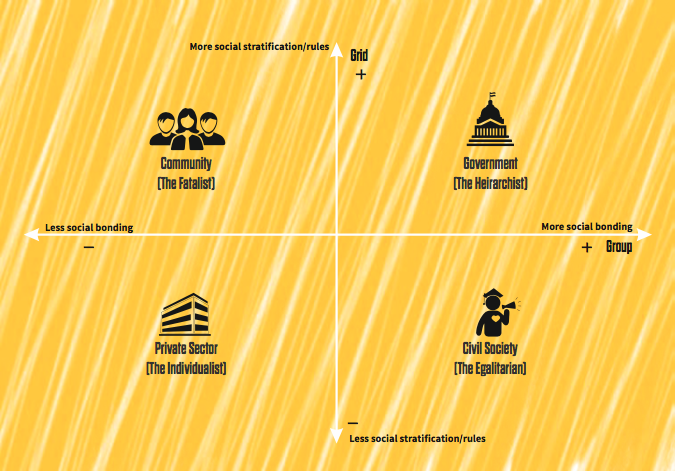 Synergy amongst stakeholders. Source: The Road to Resilience Handbook Vol. II
Typically, each group acts according to their own interests, mistrustful of the others. However, making cities safe and sustainable is everybody's business. The book explains how synergistic cities can be created by orchestrating coordinated efforts between the four types of agents in a 21st-century context. It also explains the potential roles each one of them can play and how the groups can work coherently to build more sustainable urban systems.
This all sounds good, but how does it work in practice? The book covers four important urban sectors: water, energy, mobility and environmental health. In order to dig a little deeper, let's take a look at the water sector.
Deep dive: Water
India is a water scarce country and its cities already face many water-related issues. For example, much of the water supplied is used inefficiently and ends up flowing down the drain. As most sewage is still not treated, cities end up polluting water bodies and groundwater, which leads to waterborne diseases such as diarrhea. Climate change is putting further pressure on water resources, altering the quantity and quality of water available, increasing the risks of waterborne disease, flooding and water logging, and water shortages.
The following actions will help build resilience and ensure universal access to safe water in cities. Each action is linked to specific roles for different stakeholder groups within the city, including communities, government, the private sector and civil society.
Reduce Water Demand
Recycle Water
Develop Water Ethics
Prevent Urban Water Pollution
Conserve Local Water Resources
Water leakage costs water utilities worldwide US$14 billion every year - IBM Smarter Cities
Let's take a closer look at the first action, reduce water demand. Reducing water consumption is the simplest way to improve resilience to water stress. Measures such as installing water-saving devices, reducing leakage and learning water saving habits can save water significantly at household levels. Demand reduction can help in achieving universal access to water without expanding the capacity of water supply systems. So what specific actions can be taken by communities, government, the private sector and civil society to reduce water demand?
Communities can assess and encourage water conservation options and appliances. They can use networked devices to monitor, reduce demand and report water use patterns
Government can develop water scenarios informed by demand reduction paths and climate change, and develop ecologically sound "Water Cycle Management Plans" across scales
Private sector can develop and market water efficient appliances informed by water use behaviours
Civil society can sensitise stakeholders and ensure media coverage to promote efficient water use.
They can also implementing these actions to reduce water demand will also have co-benefits for other sectors, for example reducing energy use and therefore cost, reducing groundwater withdrawal and reducing dependency on water resources far outside the city.
Download a copy of the Road to Resilience: Synergy for Sustainable Cities here.
This article was originally posted on Acclimatise webiste.
---