Indonesia: Jakarta
According to the statement from Sutopo Purwo Nugroho, Head of Data Information and Public Relation of Indonesian National Board for Disaster Management (BNPB), he said "In 2017, in Indonesia, landslides were the deadliest type of disaster and flooding was the most frequent type of disaster."
According to BNPB, more than 93% of disasters in Indonesia are hydrometeorological disasters. It's the trend since 2002 up to now. Out of 2,341 disaster events, 787 were caused by flooding, 614 of them were due to landslides, and 76 of them were a combination of flooding and landslides.
The rest of them were variously cyclones, earthquakes, volcano eruptions, and others. Flooding on its own has caused 135 casualties,with 91 people badly injured, and more than 2.3 million people having to evacuate. Futhermore, thousands of houses were damaged in 2017.
According to Media Indonesia, throughout 2017, there were approximately 97 flood incidents that occurred in East Java and Central Java Provinces. Some of the affected areas share the same watershed, which has proved to share trans-boundary waters that are facing increasing demands for basin development collaboration. This is because it is most often the case that floods affect different areas regardless of their administrative boundaries. Within each province itself, there are various river basins that are ecosystems that serve more than one city or regency. It is important to see how an ecosystem functions as a whole entity.
During the ACCCRN Networking Event in Jakarta, Indonesia, 26th March 2018, we discussed the lessons learned from several efforts in building flood resilience in Garang Watershed and Bengawan Solo Watershed. The Garang Watershed, particularly the Garang Sub-Catchment area, connects Semarang City and Semarang Regency, while Bengawan Solo Watershed connects two different provinces (i.e. East Java and Central Java).
Nyoman Prayoga from Mercy Corps Indonesia shared his experience on working with multi-stakeholder actors ranging from government, academics, business sector, and local NGOs, to the community in Semarang City and Semarang Regency, as well as in Central Java Province. "When talking about flood, we have to think about the root cause. In terms of Garang Watershed, we have to look how upsteream and dowstream area are interlinked. Therefore, we can work together in identifying how both administrative areas can invest in win-win solutions."
Yoga continued, "Flood mitigation action such as trees-planting, infiltration wells, bioswales, or even waste management is only few of several options that could be done by various actors for flood risk reduction. Those things are not new. The challenge is to have more people and development actors have better awareness on how these actions should be more prioritized and enforcing the efforts in disaster prevention action rather than post-disaster effort." He added.
Teguh Wibowo from Indonesian Red Cross, who worked on the transboudary flood resilience program in the Bengawan Solo Watershed and also a couple of other watersheds in Indonesia, added "How to involve private sector, and define their role on the transboundary watershed management while also working with diverse range of stakeholders and ensure their participation is also another challenge on the program implementation."
Through this opportunity, both Yoga and Teguh shared the utilization of Zurich Flood Resilience Measurement Tools. The tool, which is called FRMT, was used in both programs to measure various sources of flood resilience in the community. The result of a baseline assessment is intended to be used as input in developing strategies and actions for what can be done to improve the resiliency of community.
For example, if the first aid knowledge of a community is identified as weak, then it might be worth having a program that targets building community capacity and skill in this field. At the end of the program, the tool can also be used for endline assessment so that whether the actions contribute to some changes in community flood resilience or not can be analysed.
The utilization of a supporting tool that provides evidence-based information in flood resilience programming is playing a major role, especially when it comes to advocacy. By having this evidence that is captured regarding how the implemented actions were contributing to better flood resilience in the community, then it will ease the process of convincing decision makers that such initiatives are really working. Though, for sure, the way advocacy works is not as easy as merely providing evidence, but it is part of the strategy.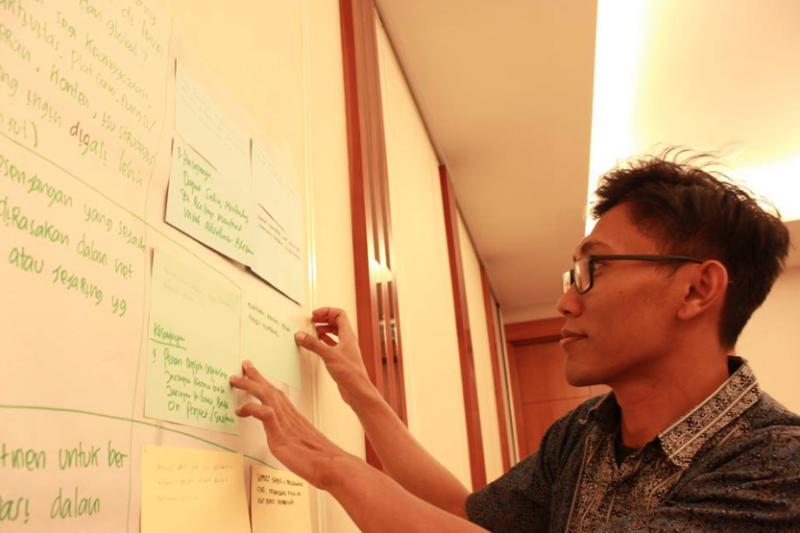 In addition to the ACCCRN Networking Event, members from diverse organizational backgrounds discussed their involvement in climate change and urban resilience networks, and shared their views on an 'ideal' regionalglobal network and platforms, especially withe regard to climate change and resilience topics. The members also conveyed their insights for ACCCRN.NET (e.g. issues that should be covered more on the website or offline discussions, display or interface of the website, types of activity to be conducted etc.). The discusion was fruitful for the ACCCRN Network in terms of looking at any gaps and find ways to fill them, in order to improve the network services in the future.
---