ASIA: Indonesia
As an archipelago, Indonesia is very prone to the impacts of climate change. Many efforts have been made, involving a range of approaches and many different stakeholders, to build climate change resilience around the country.
Mercy Corps Indonesia (MCI) has been the ACCCRN country coordinator in Indonesia since 2009. Initially, ACCCRN focused on two core cities, Semarang and Bandar Lampung, to increase capacity to implement climate change resilience processes and action.
Having learned lessons from those two cities, the ACCCRN program worked with many partners across Indonesia to expand the impact of its work by replicating it in six cities including Blitar, Cirebon, Palembang, Pekalongan, Probolinggo, and Tarakan. More cities were interested in adopting what had been learned about strategies for creating climate change resilience and this was followed up by capacity building assistance to nine other cities.
After almost eight years of working in this way, ACCCRN has now worked with 17 Indonesian cities and in conjunction with the many partners it has worked with during the process. ACCCRN has been the source of new technologies, processes and partnerships that have helped to improve local strategies to tackle climate change impacts.
In total, there are more than 5 million people who have benefitted from the ACCCRN Indonesia program and its many projects: from setting up and training flood disaster preparedness groups in Semarang, to raising awareness about mangrove ecosystem protection in Pekalongan, to encouraging farmers to shift to organic farming in Probolinggo, not to mention the many other activities carried out by ACCCRN and its partners.
The implementation of the ACCCRN program has always emphasized the need for communities and local partners to better understand how vulnerable they are and how to respond to risks that can be identified. So, here are seven stories about the program's achievements drawn from ACCCRN Indonesia's track record in conducting climate change adaptation activities:
1. Protecting and restoring natural ecosystems to protect coastal areas
Coastal areas are very vulnerable to the impacts of climate change: sea level rise, extreme weather, and coastal erosion. Semarang and Pekalongan focused on strengthening their mangrove ecosystem as a natural protection for these cities' coastal areas.
In Semarang, they planted 332,500 mangrove trees (with the average survival rate of over than 40%) and constructed a 900 meter long breakwater. Community members benefited in various ways from the mangrove project, including gaining knowledge on the impacts of climate change, as well as types of seedlings and techniques for mangrove and cultivation.
"Usually, activities like this were only about planting mangrove, but now we also need to check and monitor mangrove growth. There are more diverse activities now," said Sumadi, Head of Sringin Coastal Community Group. 
Meanwhile in Pekalongan, bamboo is used to protect mangrove seedlings in the areas affected by tidal floods. This was done to improve the survival rate, from 40% to 75%, of mangrove seeds that had been planted. These examples indicate a growing awareness of the importance of building infrastructure—natural infrastructure—when thinking about urban resilience.
2. Sustainable livelihoods provide increased income for coastal communities in Semarang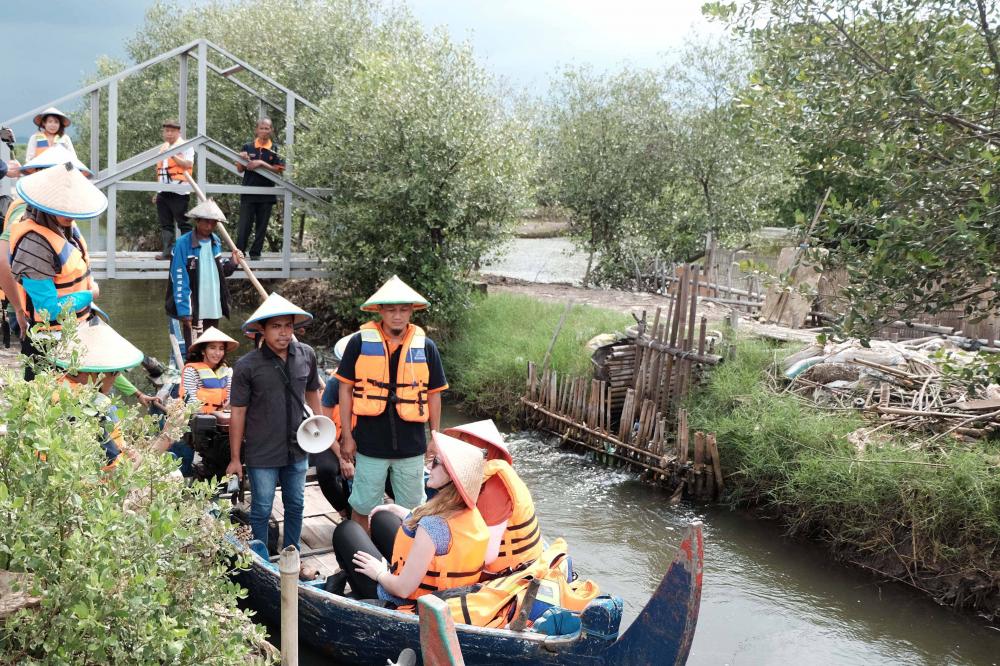 In the city of Semarang, development of sustainable livelihoods, including ecotourism, aquaculture using resilient fish species, manufacture of fish crackers, and mangrove nurseries, which have directly provided extra income for 167 people living in Semarang's coastal areas. Because of rapid urbanization, increasing temperatures, and a rise in sea level, the mangroves, which were once abundant around the city, are far less dense than they used to be. This sustainable livelihood developed is providing incentives for coastal communities who are trying to conserve and restore mangrove ecosystems.
3. Conserving water to better groundwater supply
Rainwater harvesting and ground water conservation are two simple approaches to climate change adaptation that are related to building urban resilience when people in urban areas have to deal with both too much water and, for different reasons, a lack of water supply.
Groundwater conservation was conducted in Bandar Lampung by installing over 100,000 biopore holes that increased the capacity of the soil to absorb water and, in so doing, reducing flood risks and boosting groundwater storage. Clearly, these small holes dug into the ground and surrounded with organic matter are a low-cost and effective way to manage drought and flooding.
Meanwhile, Cirebon drew lessons from Semarang's experience when it created a rainwater harvesting (RWH) system. Four RWH units were installed in four of the city's primary schools as a pilot scheme. It has been demonstrated that the schools benefited from having an adequate water resource during the rainy season and they expected to have better groundwater supply in the future, as the shallow wells get recharged with water in the rainy season. The RWH also reduced electricity costs by 20-30% in those pilot schools as they don't have to use electric pumps to obtain the water in rainy season anymore.
4. Mosquito larvae-free index up to 95% in dengue prone areas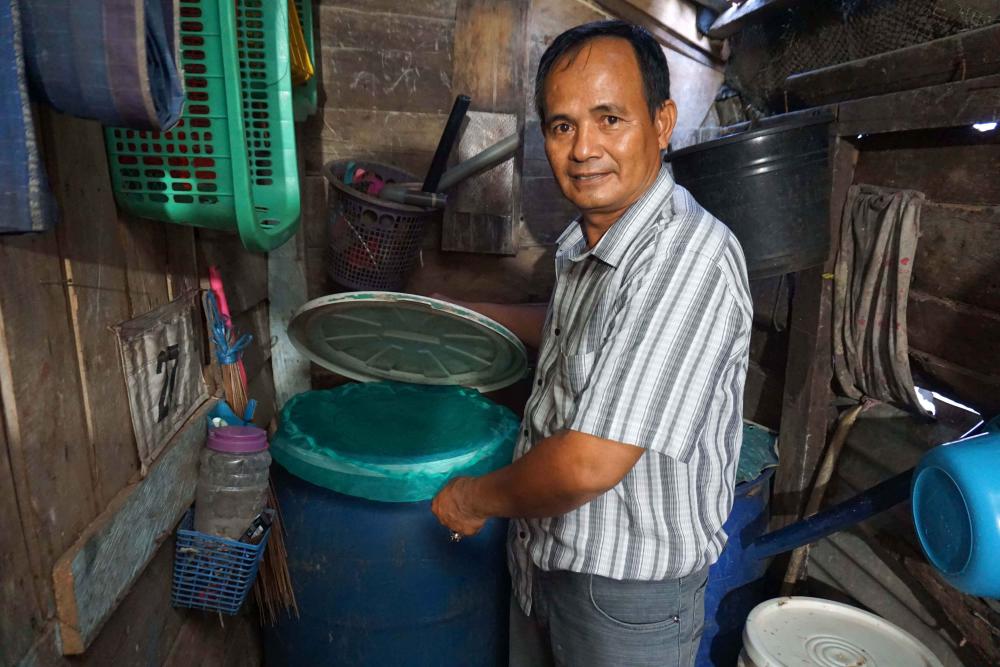 In 2015, Tarakan City produced anti-dengue nets which are man-made mosquito nets that prevent mosquitos from breeding in water by covering the kind of open water containers owned by most households in the area. Local people call it TAD – which stands for Topi Anti DBD or 'dengue prevention cap' (the net provides a 'cap' for the water container).
Thanks to TAD, the mosquito larvae-free index in Tarakan's Selumit Pantai Sub-district rose from 56.3% to 95% within six months. Aside from mosquito larvae, the net also prevented dirt and pests, such as mice, from getting into the residents' clean water.
A different approach was used in Semarang. In order to improve and accelerate the speed at which dengue cases were being reported, the city's government developed the Health Information Early Warning System (HIEWS) using an application that enabled the general public to participate. Between September 2015 and April 2016, the system recorded more than 10,000 pieces of data on dengue-related cases.
This participatory reporting, facilitated by the use of technology, helps the City Health Agency to respond more effectively to incidences of dengue. The larvae-free index in the six pilot sub-districts has improved from 69.1% to 95.4% within 7 months, and, since the intensive capacity building began, all six areas are reported to be more resilient to dengue cases compared to other areas in the city.
5. Improved learning on climate change for more than 1,000 students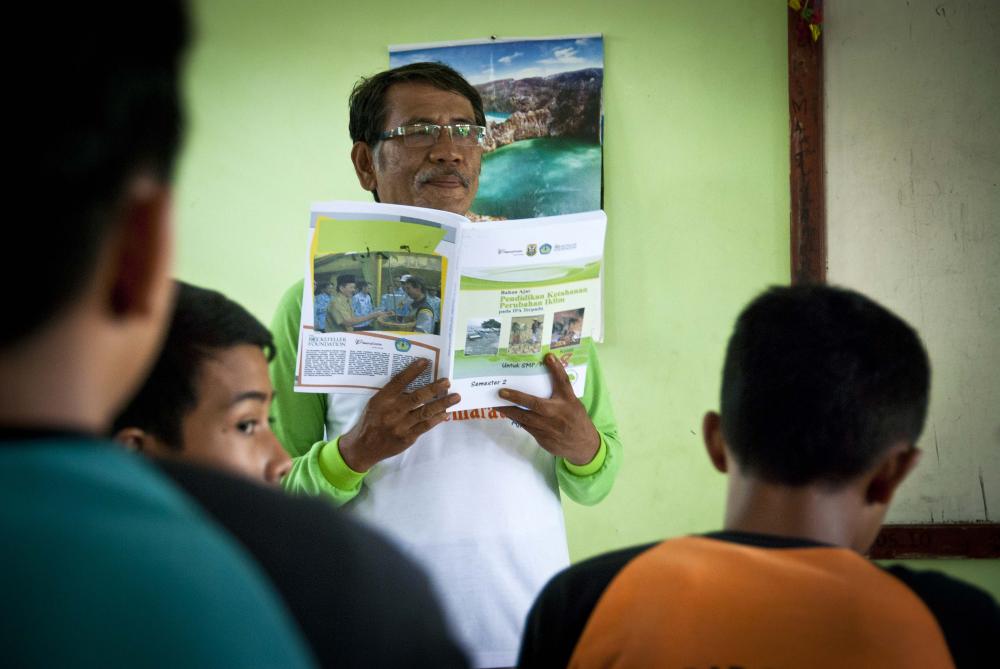 Capacity building at the community level happened through various climate change adaptation measures, from climate change education for students in Bandar Lampung, to student doctors fighting dengue in Semarang.
A set of climate change modules has been integrated with the existing curriculum and used by teachers in four pilot schools (primary and middle) in Bandar Lampung involving 1,845 students. The successful implementation resulted in the government of Bandar Lampung expanding the practice to all public schools in the city. 
Meanwhile in Semarang, children were involved when over 200 student doctors participated in the City Health Agency's monitoring of mosquito larvae around their schools and neigborhoods. They learned that climate change is increasing the risks of vector borne diseases that they should be aware of.
In Cirebon, students also learned about the impacts of climate change on water scarcity and this familiarized them with the use of rainwater harvesting as an alternative water resource.
6. City teams as multistakeholder platforms for mainstreaming UCCR
ACCCRN in Indonesia has worked intensively with city governments. This is done through the establishment of a Climate Change Working Group in each city where ACCCRN operates which is known as as a City Team. This platform consists of multi-stakeholder representatives from relevant backgrounds or sectors to create coordination and collaboration on climate change issues.
ACCCRN realizes that climate change is not the responsibility of a single institution, but is instead a very complex crosscutting development issue that should be discussed and faced together. The City Team becomes the engine to lead the process of integrating climate change considerations into local policies, programs and activities. With the assistance of ACCCRN at the national level, the Association of Indonesian Municipalities (APEKSI – Asosiasi Pemerintah Kota Seluruh Indonesia) also hosts a climate change working group to create coordination across cities that promotes their concerns regarding climate change issues.
7.  Knowledge and practice from ACCCRN Indonesia are the main inputs into the policy making process for climate change adaptation at the national level
During the implementation of its program in Indonesia, ACCCRN's approach has been to present evidence and lessons learned (from the cities where it works) to the central government so that such input can inform the policy making process at the national level.
Advocacy has been carried out to promote increased consideration of climate change issues in formulating the development agenda by various ministries and institutions, especially the National Development Planning Agency and Ministry of Environment and Forestry.
This process is not worked on solely by MCI, through the ACCCRN Program, but also by working together with other organizations through the Indonesia Climate Alliance (ICA) to create a more solid advocacy process. This results in the inputs into RAN API (Rencana Adaptasi Nasional Adaptasi Perubahan Iklim - National Adaptation Plan on Climate Change Adaptation), collaboration between MCI, CCROM-IPB and the Ministry of Environment and Forestry to create SIDIK (Sistem Informasi Indeks Inventarisasi Kerentanan - Information System for Vulnerability Index in Indonesia), and acknowledgement by the Ministry of Women Empowerment and Child Protection as the contributor in the development of Technical Guidance for Local Government of Indonesia on Gender Responsive Climate Change Adaptation.
---