COMPETITION
ACCCRN is committed to provide activities that can be beneficial for its members. Competition is held in order to enable active participation from ACCCRN members and become a platform to share member's experiences in the field of climate change and urban resilience. It can also be seen as a momentum to motivate UCCR practitioners to share their work to wider audience.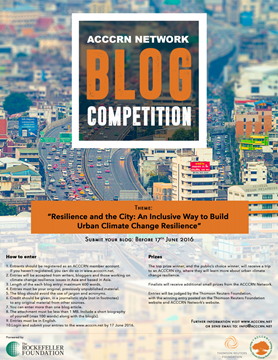 ACCCRN 2016 Blog Competition
ACCCRN in partnership with Thomson Reuters Foundation looked for great blogs on urban climate change resilience issues from writers, bloggers and those working on climate change in Asia and based in Asia.
ACCCRN – ICRD 2016 Paper Competition
ACCCRN invited its members who are based in Asia to submit papers for the 3rd International Conference on Regional Development (ICRD). Two selected papers had been presented at the event in Semarang, Indonesia, 9-11 November 2016.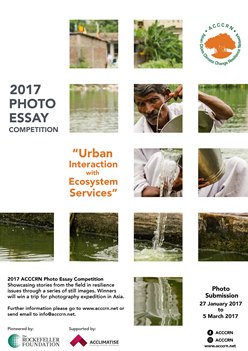 ACCCRN 2017 Photo Essay Competition
ACCCRN is seeking great pictures on urban climate change resilience issues to promote understanding of urban resilience by creating opportunities for people to share their experiences or concern from their perspectives.